Backing up on a steep uphill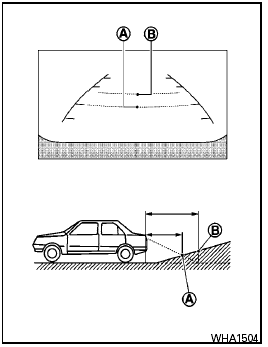 Backing up on a steep uphill
When backing up the vehicle up a hill, the distance guide lines and the vehicle width guide lines are shown closer than the actual distance.
For example, the display shows 3 ft (1.0 m) to the place A , but the actual 3 ft (1.0 m) distance on the hill is the place B . Note that any object on the hill is further than it appears on the monitor.
See also:
Rocking a stuck vehicle
WARNING ● Stand clear of a stuck vehicle. ● Do not spin your tires at high speed. This could cause them to explode and result in serious injury. Parts of your vehicle could also overh ...
NISSAN Vehicle Immobilizer System
The NISSAN Vehicle Immobilizer System will not allow the engine to start without the use of the registered key. If the engine fails to start using the registered key, it may be due to interfere ...
Playing a DVD
Inserting/Ejecting the DVD The CD/DVD insert slot is located behind the display screen. To insert the DVD, press the OPEN/TILT button on the audio unit. The display screen will automatically mov ...