Backing up on a steep uphill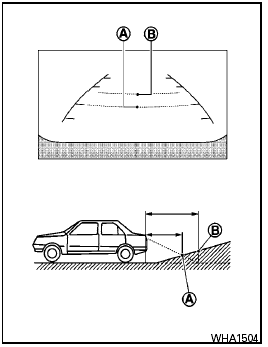 Backing up on a steep uphill
When backing up the vehicle up a hill, the distance guide lines and the vehicle width guide lines are shown closer than the actual distance.
For example, the display shows 3 ft (1.0 m) to the place A , but the actual 3 ft (1.0 m) distance on the hill is the place B . Note that any object on the hill is further than it appears on the monitor.
See also:
Jump starting
If jump starting is necessary, see Jump starting in the In case of emergency section of this manual. If the engine does not start by jump starting, the battery may have to be replaced. Contact ...
Frontier in the Market
The Frontier is the right-size truck for an urban environment, and with the available V-6 engine it offers decent capability, too, with a large 6,500-pound maximum towing capacity and a 1,541-poun ...
Shifting
To change gears or when upshifting or downshifting, depress the clutch pedal fully, shift into the appropriate gear, then release the clutch slowly and smoothly. To ensure smooth gear changes, f ...