FM/AM radio with compact disc (CD) player (Type B) (if so equipped)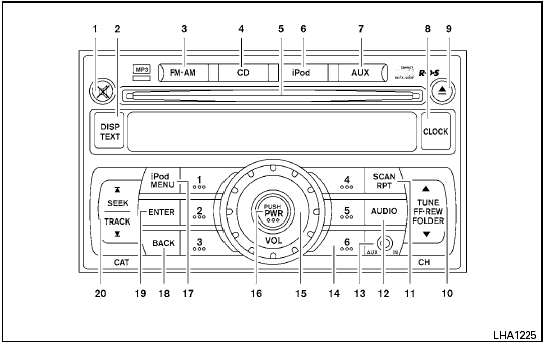 Type B
1.

MUTE button
2. DISP/TEXT button
3. FM-AM button
4. CD button
5. CD insert slot
6. iPod button
7. AUX button
8. CLOCK button
9.

CD eject button
10. TUNE/FF-REW/FOLDER button
11. SCAN/RPT button
12. AUDIO button
13. AUX IN jack
14. Station select (1 - 6) buttons
15. VOLUME control knob
16. PWR button
17. iPod MENU button
18. BACK button
19. ENTER button
20. SEEK/TRACK button
For all operation precautions, see Audio operation precautions in this section.
See also:
Troubleshooting guide
Verify the location of all Intelligent Keys that are programmed for the vehicle. If another Intelligent Key is in range or inside the vehicle, the vehicle system may respond differently than expect ...
Freeing a frozen door lock
To prevent a door lock from freezing, apply deicer through the key hole. If the lock becomes frozen, heat the key before inserting it into the key hole or use the remote keyless entry keyfob (if ...
Receiving a call
When you hear the ring tone, push the button on the steering wheel. Once the call has ended, push the button on the steering wheel. NOTE: If you do not wish to take the call when you he ...