Shifting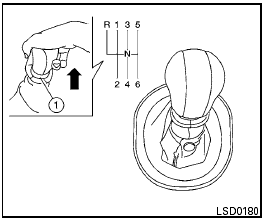 Shifting
To change gears or when upshifting or downshifting, depress the clutch pedal fully, shift into the appropriate gear, then release the clutch slowly and smoothly.
To ensure smooth gear changes, fully depress the clutch pedal before operating the shift selector.
If the clutch pedal is not fully depressed before the transmission is shifted, a gear noise may be heard. Transmission damage may occur.
Start the vehicle in 1st gear and shift to 2nd, 3rd, 4th and 5th up to 6th gear in sequence according to vehicle speed.
To back up, lift up on the shift selector ring 1 and then move it to the R (Reverse) position after stopping the vehicle completely.
The shift selector ring 1 returns to its original position when the shift selector is moved to the N (Neutral) position.
If it is difficult to move the shift selector into R (Reverse) or 1 (1st), shift into N (Neutral), then release the clutch pedal. Depress the clutch pedal again and shift into R (Reverse) or 1 (1st).
See also:
Silencing the horn beep feature
If desired, the horn beep feature can be deactivated using the Intelligent Key. To deactivate: Press and hold the and buttons for at least 2 seconds. The hazard warning lights will flash 3 tim ...
Maintenance requirements
Your NISSAN has been designed to have minimum maintenance requirements with long service intervals to save you both time and money. However, some day-to-day and regular maintenance is essential to ...
Break-in schedule
During the first 1,200 miles (2,000 km), follow these recommendations to obtain maximum engine performance and ensure the future reliability and economy of your new vehicle. Failure to f ...