Shifting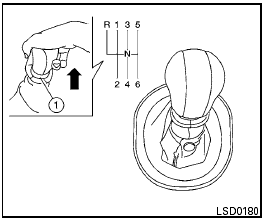 Shifting
To change gears or when upshifting or downshifting, depress the clutch pedal fully, shift into the appropriate gear, then release the clutch slowly and smoothly.
To ensure smooth gear changes, fully depress the clutch pedal before operating the shift selector.
If the clutch pedal is not fully depressed before the transmission is shifted, a gear noise may be heard. Transmission damage may occur.
Start the vehicle in 1st gear and shift to 2nd, 3rd, 4th and 5th up to 6th gear in sequence according to vehicle speed.
To back up, lift up on the shift selector ring 1 and then move it to the R (Reverse) position after stopping the vehicle completely.
The shift selector ring 1 returns to its original position when the shift selector is moved to the N (Neutral) position.
If it is difficult to move the shift selector into R (Reverse) or 1 (1st), shift into N (Neutral), then release the clutch pedal. Depress the clutch pedal again and shift into R (Reverse) or 1 (1st).
See also:
Before starting the engine
- Make sure the area around the vehicle is clear. - Check fluid levels such as engine oil, coolant, brake fluid, and window washer fluid as frequently as possible, or at least whenever you re ...
Locking doors
Locking doors 1. Place the ignition switch in the LOCK position. 2. Close all doors. 3. Press the button on the Intelligent Key. 4. The hazard warning lights flash twice and the horn beep ...
Unlocking doors
1. Push the UNLOCK button 2 on the Intelligent Key. 2. The hazard indicator flashes once. The driver's door will unlock. 3. Push the UNLOCK button again within 5 seconds. 4. The hazar ...