Precautions on cruise control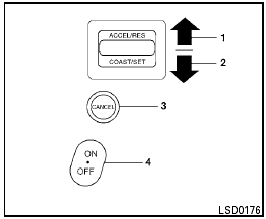 Precautions on cruise control
1. ACCEL/RES switch
2. COAST/SET switch
3. CANCEL switch
4. ON/OFF switch
● If the cruise control system malfunctions, it cancels automatically. The SET indicator light in the instrument panel then blinks to warn the driver.
● If the SET indicator light blinks, turn the cruise control switch off and have the system checked by a NISSAN dealer.
● The SET indicator light may blink when the cruise control switch is turned ON while pushing the ACCEL/RES, COAST/SET, or CANCEL switch. To properly set the cruise control system, use the following procedures.

Do not use the cruise control when driving under the following conditions.
● When it is not possible to keep the vehicle at a set speed.
● In heavy traffic or in traffic that varies in speed.
● On winding or hilly roads.
● On slippery roads (rain, snow, ice, etc.).
● In very windy areas.
Doing so could cause a loss of vehicle control and result in an accident.

On manual transmission models, do not shift into N (Neutral) without depressing the clutch pedal when the cruise control is set. Should this occur, depress the clutch pedal and turn the main switch off immediately.
Failure to do so may cause engine damage.
See also:
Setting hazard indicator and horn mode
This vehicle is set in hazard indicator and horn mode when you first receive the vehicle. In hazard indicator and horn mode, when the LOCK button 1 is pushed, the hazard indicator flashes tw ...
NISSAN vehicle immobilizer system
The NISSAN Vehicle Immobilizer System will not allow the engine to start without the use of a registered key. If the engine fails to start using a registered key (for example, when interference ...
Air flow charts
The following charts show the button and dial positions for MAXIMUM AND QUICK heating, cooling or defrosting. The air recirculation button should always be in the OFF position for heating and defr ...