Checking engine coolant level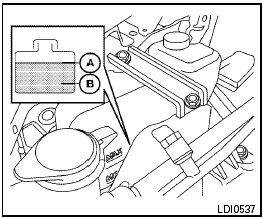 MR20DE
Check the coolant level in the reservoir when the engine is cold. If the coolant level is below the MIN level B , add coolant to the MAX level A . If the reservoir is empty, check the coolant level in the radiator when the engine is cold. If there is insufficient coolant in the radiator, fill the radiator with coolant up to the filler opening and also add it to the reservoir up to the MAX level A .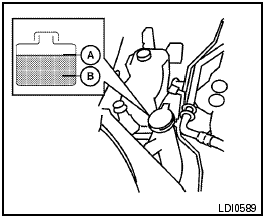 QR25DE
This vehicle contains Genuine NISSAN Long Life Antifreeze/Coolant (blue). The life expectancy of the factory-fill coolant is 105,000 miles (168,000 km) or 7 years. Mixing any other type of coolant or the use of non-distilled water will reduce the life expectancy of the factory-fill coolant. Refer to the NISSAN Service and Maintenance Guide for more details.
If the cooling system frequently requires coolant, have it checked by a NISSAN dealer.
See also:
Underbody
In areas where road salt is used in winter, the underbody must be cleaned regularly. This will prevent dirt and salt from building up and causing the acceleration of corrosion on the underbody ...
Aftermarket fuel additives
NISSAN does not recommend the use of any aftermarket fuel additives (for example, fuel injector cleaner, octane booster, intake valve deposit removers, etc.) which are sold commercially. Many o ...
BluetoothT Hands-Free Phone System with Navigation System (if so equipped)
WARNING: - Use a phone after stopping your vehicle in a safe location. If you have to use a phone while driving, exercise extreme caution at all times so full attention may be given to vehicl ...