Glove box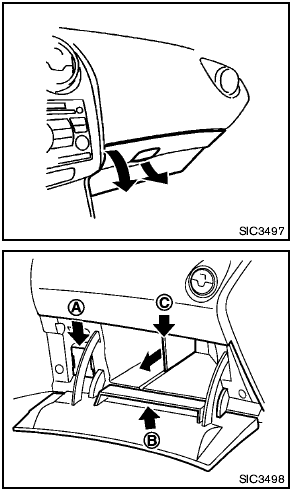 Glove box
Keep glove box lid closed while driving to help prevent injury in an accident or a sudden stop.
To open the glove box, pull the handle.
To close, push the lid in until the lock latches.
The glove box light illuminates when the headlight switch is turned on.
A Card holder
B Back side pocket of lid
C Removable partition (if so equipped)
To remove the partition, pull it out.
See also:
РЎhange the display brightness button
To change the display brightness, press the button. Pressing the button again will change the display to the day or the night display. If no operation is performed within 5 seconds, the dis ...
Training phrases
During the SA mode, the system instructs the trainer to say the following phrases. (The system will prompt you for each phrase.) ● phonebook transfer entry ● dial three oh four two nin ...