Pulling a stuck vehicle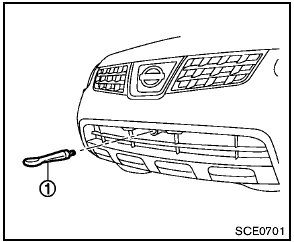 Front
Do not use the tie down hooks for towing or vehicle recovery.
Front:
Securely install the recovery hook 1 (stored in the luggage room) as illustrated.
Make sure that the hook is properly secured in the original place after use.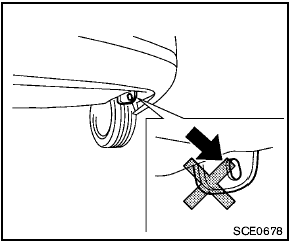 Rear
Rear:
Do not use the tie down hook to pull the vehicle.

- Tow chains or cables must be attached only to the main structural members of the vehicle or the recovery hook. Otherwise, the vehicle body will be damaged.
- Do not use the vehicle tie down hooks to free a vehicle stuck in sand, snow, mud, etc. Never tow a vehicle using the vehicle tie down hooks.
- Always pull the cable straight out from the front of the vehicle. Never pull on the vehicle at an angle.
- Pulling devices should be routed so they do not touch any part of the suspension, steering, brake or cooling systems.
- Pulling devices such as ropes or canvas straps are not recommended for use in vehicle towing or recovery.
See also:
All-Wheel Drive (AWD) models
- Always use tires of the same type, size, brand, construction (bias, biasbelted or radial), and tread pattern on all four wheels. Failure to do so may result in a circumference difference ...
Backing up behind a projecting object
The position C is shown farther than the position B in the display. However, the position C is actually at the same distance as the position A . The vehicle may hit the object when backing up to ...
System operation
The automatic drive positioner system will not work or will stop operating under the following conditions: - When the vehicle speed is above 4 MPH (7 km/h). - When any of the memory switches a ...