Checking engine coolant level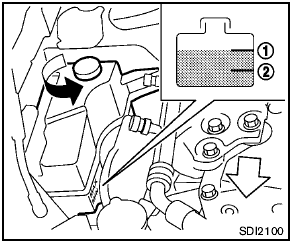 Check the coolant level in the reservoir when the engine is cold. If the coolant level is below the MIN level 2 , open the reservoir cap and add coolant up to the MAX level 1 . If the reservoir is empty, check the coolant level in the radiator when the engine is cold. If there is insufficient coolant in the radiator, fill the radiator with coolant up to the filler opening and also add it to the reservoir up to the MAX level 1 .
If the cooling system frequently requires coolant, have it checked by a NISSAN dealer.
See also:
Car phone or CB radio
When installing a CB, ham radio or car phone in your NISSAN, be sure to observe the following precautions; otherwise, the new equipment may adversely affect the engine control system and other ele ...
Giving voice commands
1. Press the switch located on the steering wheel. 2. A list of commands appears on the screen, and the system announces, Would you like to access Phone, Navigation, Information, Audio ...
Use of this product implies acceptance of the terms below
This device contains software from Gracenote, Inc. of Emeryville, California (Gracenote). The software from Gracenote (the Gracenote Software ) enables this application to do online disc ident ...