Rear-facing child restraint installation using latch
Refer to all Warnings and Cautions in the Child Safety and Child Restraint sections before installing a child restraint.
Follow these steps to install a rear-facing child restraint using the Latch system:
1. Position the child restraint on the seat. Always follow the child restraint manufacturer s instructions.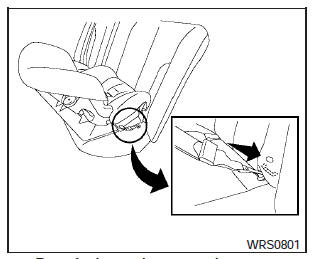 Rear-facing web-mounted step 2
2. Secure the child restraint anchor attachments to the Latch lower anchors. Check to make sure the Latch attachment is properly attached to the lower anchors.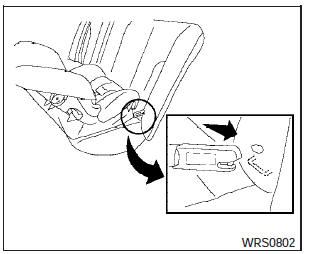 Rear-facing rigid-mounted step 2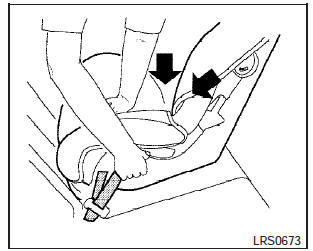 Rear-facing step 3
3. For child restraints that are equipped with webbing-mounted attachments, remove any additional slack from the anchor attachments.
Press downward and rearward firmly in the center of the child restraint with your hand to compress the vehicle seat cushion and seatback while tightening the webbing of the anchor attachments.

Rear-facing step 4
4. After attaching the child restraint, test it before you place the child in it. Push it from side to side while holding the child restraint near the Latch attachment path. The child restraint should not move more than 1 inch (25 mm), from side to side. Try to tug it forward and check to see if the Latch attachment holds the restraint in place. If the restraint is not secure, tighten the Latch attachment as necessary, or put the restraint in another seat and test it again. You may need to try a different child restraint or try installing by using the vehicle seat belt (if applicable).
Not all child restraints fit in all types of vehicles.
5. Check to make sure the child restraint is properly secured prior to each use. If the child restraint is loose, repeat steps 2 through 4.
See also:
Silencing the horn beep feature
If desired, the horn beep feature can be deactivated using the Intelligent Key. To deactivate: Press and hold the and buttons for at least 2 seconds. The hazard warning lights will flash 3 tim ...
Intelligent Key door buzzer (if so equipped)
When the chime or buzzer sounds from inside and outside the vehicle, check for the following: - The ignition switch is turned to the LOCK position. - The intelligent Key is not left inside the ...
Trailer hitch
Choose a proper hitch for your vehicle and trailer. Make sure the trailer hitch is securely attached to the vehicle, to help avoid personal injury or property damage due to sway caused by crosswi ...