Opening the fuel-filler door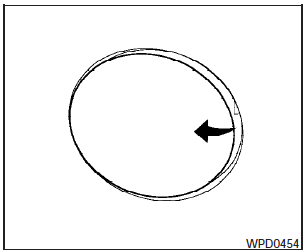 The fuel-filler door automatically unlocks when all doors are unlocked.
1. Unlock the fuel-filler door using one of the following operations.
- Unlock all doors with the keyfob.
- Unlock all doors with the key.
- Push the power door lock switch to the unlock position.
2. To open the fuel filler door, push the right side of the fuel filler door to release.
To lock, close the fuel-filler door securely and lock the doors.
See also:
Hitch ball
Choose a hitch ball of the proper size and weight rating for your trailer: - The required hitch ball size is stamped on most trailer couplers. Most hitch balls also have the size printed on to ...
NISSAN Advanced Air Bag System (front seats)
This vehicle is equipped with the NISSAN Advanced Air Bag System for the driver and front passenger seats. This system is designed to meet certification requirements under U.S. regulations. It ...
Pregnant women
NISSAN recommends that pregnant women use seat belts. The seat belt should be worn snug, and always position the lap belt as low as possible around the hips, not the waist. Place the shoulder ...