How to use the NISSAN controller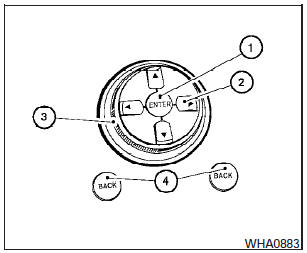 Use the NISSAN controller to choose an item on the display screen. Highlight an item on the display using the main directional buttons (2)- or the center dial (3). Then press the ENTER button (1) to select the item or perform the action.
The BACK button (4)- has two functions:
- Go back to the previous display (cancel).
If you press the BACK button (4)- during setup, the setup will be canceled and/or the display will return to the previous screen.
- Finish setup.
In some screens pressing the BACK button (4)- accepts the changes made during setup.
See also:
Windshield-washer fluid
Fill the windshield-washer fluid reservoir periodically. Add windshield-washer fluid when the low windshield-washer fluid warning light comes on. To fill the windshield-washer fluid reservoir, li ...
Seating & Cargo
The front seats offer better thigh and lateral support than do most crossovers, but the center console pins your knees and hips in. It gives the crossover a more carlike cockpit, which some shoppe ...
Hitch ball
Choose a hitch ball of the proper size and weight rating for your trailer: - The required hitch ball size is stamped on most trailer couplers. Most hitch balls also have the size printed on to ...