USB interface (models without Navigation System) (if so equipped)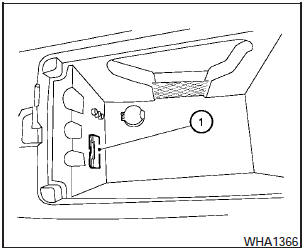 Connecting a device to the USB input jack
The USB input jack is located in the center console.
Open the protective cover (1) on the USB jack, then insert the USB device into the jack.
When a compatible storage device is plugged into the jack, compatible audio files on the storage device can be played through the vehicles audio system.
Audio file operation
AUX button:
Place the ignition switch in the ON or ACC position and press the AUX button to switch to the USB input mode. If another audio source is playing and a USB memory device is inserted, press the AUX button repeatedly until the center display changes to the USB memory mode.
If the system has been turned off while the USB memory was playing, push the ON-OFF/VOL control knob to restart the USB memory.

SEEK/CAT and TRACK (Reverse or Fast Forward) buttons:
Press and hold the SEEK/CAT

(rewind) button or TRACK

(fast forward) button for 1.5 seconds while an audio file on the USB device is playing to reverse or fast forward the track being played. The track plays at an increased speed while reversing or fast forwarding.
When the button is released, the audio file returns to normal play speed.

SEEK/CAT and TRACK buttons:
Press the SEEK/CAT

button while an audio file on the USB device is playing to return to the beginning of the current track. Press the SEEK/CAT button

several times to skip backward several tracks.
Press the TRACK

button while an audio file on the USB device is playing to advance one track. Press the TRACK

button several times to skip forward several tracks. If the last track in a folder on the USB device is skipped, the first track of the next folder is played.
Folder selection:
To change to another folder in the USB memory, turn the TUNE/FOLDER knob or choose a folder displayed on the screen using the NISSAN controller.
RPT/RDM button:
When the RPT/RDM button is pressed while the USB memory is playing, the play pattern can be changed as follows:
Repeat All!1 Folder Repeat!1 Track Repeat !All Random!1 Folder Random!Repeat All
See also:
Intelligent Key operation
You can lock or unlock the doors without taking the key out from your pocket or bag. When you carry the Intelligent Key with you, you can lock or unlock all doors by pushing the door handle ...
Automatic operation
To fully open a window equipped with automatic operation, press the window switch down (only driver's side shown) to the second detent and release it; it need not be held. The window automatica ...
SAFETY
The Murano CrossCabriolet has two sets of lower Latch anchors in the rear seats, but more importantly, the roomy backseat could easily house even the chunkiest infant carriers. With the top down ...