Speaker Adaptation function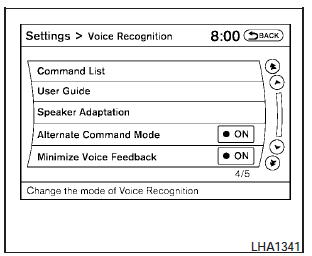 The Voice Recognition system has a function to learn the users voice for better voice recognition performance. The system can memorize the voices of up to three persons.
Having the system learn the users voice
1. Press the SETTING button on the instrument panel, select the Others key on the display.
2. Select the Voice Recognition key.
3. Select the Speaker Adaptation key.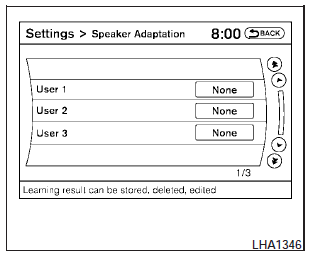 4. Select the user whose voice is to be memorized by the system.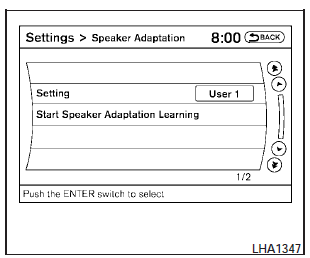 5. Select a category to be learned by the system from the following list:
- Phone.
- Navigation.
- Information.
- Audio.
- Help.
The voice commands in the category are displayed.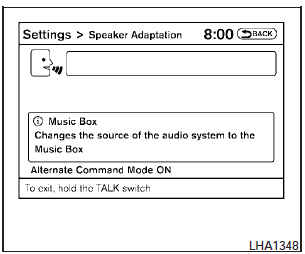 6. Select a voice command to train.
The Voice Recognition system starts.
7. The system requests that you repeat a command after a tone. This command is also displayed on the screen.
8. After the tone sounds and the icon on the screen changes from

, speak the command that the system requested.
9. When the system has recognized the voice command, the voice of the user is learned.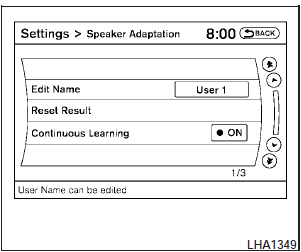 Speaker Adaptation function settings
Edit Name:
Edit the user name using the keypad displayed on the screen.
Reset Result:
Resets the users voice that the Voice Recognition system has learned.
Continuous Learning:
When this item is turned to ON, you can have the system learn the voice commands in succession, without selecting commands one by one.
See also:
Backing up near a projecting object
Backing up near a projecting object The vehicle may seem to nearly clear the object in the display. However, the vehicle may hit the object if it projects over the actual backing up course. ...
Cargo & Towing
The Altima's trunk measures 15.3 cubic feet, which is average for the class, but it shrinks to 13.1 cubic feet with the full-size spare tire that's included with the optional stability system. (St ...
Outside air temperature
The outside air temperature is displayed in 8F or 8C in the range of −58 to 1408F (−50 to 608C). The outside air temperature mode includes low temperature warning features. - When th ...