Engine cooling system
The engine cooling system is filled at the factory with Genuine NISSAN Engine Coolant to provide year-round anti-freeze and coolant protection.
The anti-freeze solution contains rust and corrosion inhibitors. Additional engine cooling system additives are not necessary.
WARNING:
- Never remove the radiator or coolant reservoir cap when the engine is hot.
Wait until the engine and radiator cool down. Serious burns could be caused by high pressure fluid escaping from the radiator. See precautions in If your vehicle overheats found in the In case of emergency section of this manual.
- The radiator is equipped with a pressure type radiator cap. To prevent engine damage, use only a genuine NISSAN radiator cap.
CAUTION:
When adding or replacing coolant, be sure to use only a Genuine NISSAN Long Life Antifreeze/Coolant or equivalent with the proper mixture ratio of 50% anti-freeze and 50% demineralized or distilled water.
The use of other types of coolant solutions other than Genuine NISSAN Long Life Antifreeze/Coolant or equivalent, may damage the engine cooling system.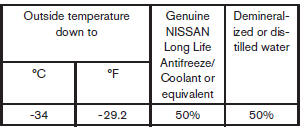 See also:
Features & Pricing
Starting at $30,690 for a 2010 Maxima and increasing to $30,810 for a 2011, the Maxima falls right between the Taurus ($25,170 to start, similarly equipped for $27,370) and Avalon ($32,445 to star ...
Avoiding collision and rollover
WARNING: Failure to operate this vehicle in a safe and prudent manner may result in loss of control or an accident. Be alert and drive defensively at all times. Obey all traffic regulations. A ...
Mechanical key
The Intelligent Key contains the mechanical key. To remove the mechanical key, release the lock knob on the back of the Intelligent Key. To install the mechanical key, firmly insert it into the ...