Checking engine oil level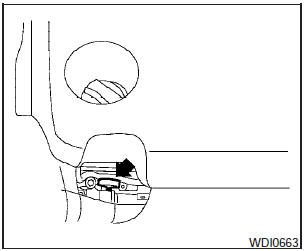 1. Park the vehicle on a level surface and apply the parking brake.
2. Start the engine and let it idle until it reaches operating temperature.
3. Turn off the engine. Wait more than 10 minutes for the oil to drain back into the oil pan.
4. Remove the dipstick and wipe it clean. Reinsert it all the way.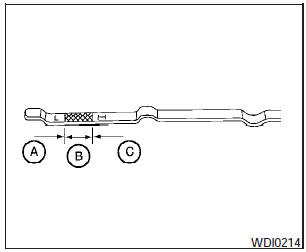 5. Remove the dipstick again and check the oil level. It should be between the H (High) and L (Low) marks (B). This is the normal operating oil level range. If the oil level is below the L (Low) mark (A) , remove the oil filler cap and pour recommended oil through the opening. Do not overfill (C).
6. Recheck oil level with the dipstick.
It is normal to add some oil between oil maintenance intervals or during the break-in period, depending on the severity of operating conditions.
CAUTION:
Oil level should be checked regularly. Operating the engine with an insufficient amount of oil can damage the engine, and such damage is not covered by warranty.
See also:
How to adjust the screen (if so equipped)
To set up the RearView Monitor to your preferred settings, push the SETTING button while the RearView Monitor screen is displayed. Each time the SETTING button is pushed, the next setting item ...
Automatic moonroof
The moonroof will only operate when the ignition switch is placed in the ON position. The automatic moonroof is operational for about 45 seconds, even if the ignition switch is placed in the ACC ...
NISSAN Intelligent Key Operation
You can lock or unlock the doors without taking the Intelligent Key out of your pocket or bag. When you carry the Intelligent Key with you, you can lock or unlock all doors by pushing the door ...