Engine compartment check locations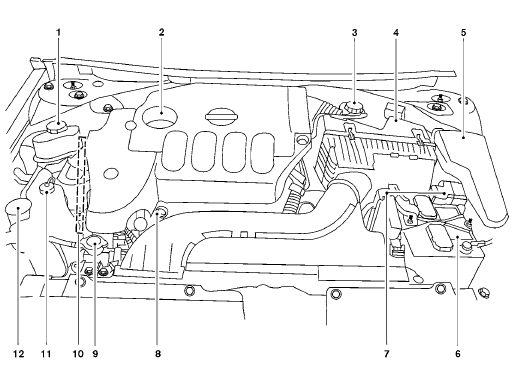 QR25DE engine
1. Power steering fluid reservoir (P. 8-14)
2. Engine oil filler cap (P. 8-10)
3. Brake fluid reservoir/Clutch fluid reservoir (M/T model) (P. 8-15, 8-15)
4. Air cleaner (P. 8-20)
5. Fuse block (P. 8-23)
6. Battery (P. 8-16)
7. Fuse/fusible link box (P. 8-23)
8. Engine oil dipstick (P. 8-10)
9. Radiator cap (P. 8-8)
10. Drive belt location (P. 8-18)
11. Engine coolant reservoir (P. 8-8)
12. Windshield-washer fluid reservoir (P. 8-15)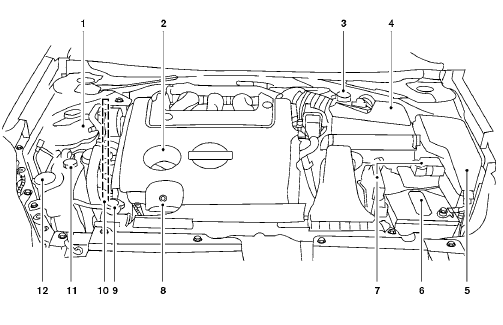 VQ35DE engine
1. Power steering fluid reservoir (P. 8-14)
2. Engine oil filler cap (P. 8-10)
3. Brake fluid reservoir/Clutch fluid reservoir (M/T model) (P. 8-15, 8-15)
4. Air cleaner (P. 8-20)
5. Fuse block (P. 8-23)
6. Battery (P. 8-16)
7. Fuse/fusible link box (P. 8-23)
8. Engine oil dipstick (P. 8-10)
9. Radiator cap (P. 8-8)
10. Drive belt location (P. 8-18)
11. Engine coolant reservoir (P. 8-8)
12. Windshield-washer fluid reservoir (P. 8-15)
See also:
Passenger compartment
CAUTION Never use a fuse of a higher or lower amperage rating than specified on the fuse box cover. This could damage the electrical system or cause a fire. If any electrical equipment does not ...
Upper tether anchor/key cylinder covers
CAUTION Never force the covers into place because the hinge pins can be damaged. Follow the removal and installation instructions to prevent inoperability of the covers. ...
Engine
This spark ignition system complies with the Canadian standard ICES-002. ...