Security indicator light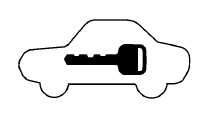 The security indicator light blinks whenever the ignition switch is placed in the OFF, LOCK or ACC position. This function indicates the NISSAN Vehicle Immobilizer System is operational.
If the NISSAN Vehicle Immobilizer System is malfunctioning, the light will remain on while the ignition switch is placed in the ON position.
If the light still remains on and/or the engine will not start, see a NISSAN dealer for NISSAN Vehicle Immobilizer System service as soon as possible. Please bring all registered keys that you have when visiting your NISSAN dealer for service.
See also:
Change intervals
The oil and oil filter change intervals for your engine are based on the use of the specified quality oils and filters. Using engine oil and filters that are not of the specified quality, or exc ...
Climate control seat switch (if so equipped)
The climate controlled seat warms up or cools down the front seat by blowing warm or cool air from the surface of the seat. The climate control switch is located on the center console. The cl ...
Parking brake break-in
Break-in the parking brake shoes whenever the stopping effect of the parking brake is weakened or whenever the parking brake shoes and/or drum/rotors are replaced, in order to assure the best brak ...