Security indicator light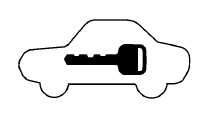 The security indicator light blinks whenever the ignition switch is placed in the OFF, LOCK or ACC position. This function indicates the NISSAN Vehicle Immobilizer System is operational.
If the NISSAN Vehicle Immobilizer System is malfunctioning, the light will remain on while the ignition switch is placed in the ON position.
If the light still remains on and/or the engine will not start, see a NISSAN dealer for NISSAN Vehicle Immobilizer System service as soon as possible. Please bring all registered keys that you have when visiting your NISSAN dealer for service.
See also:
Towing load/specification
*1: The towing capacity values are calculated assuming a base vehicle with driver and any options required to achieve the rating. Additional passengers, cargo and/or optional equipment will ...
Increasing fuel economy
-Accelerate slowly and smoothly. Maintain cruising speeds with a constant accelerator position. - Drive at moderate speeds on the highway. Driving at high speed lowers fuel economy. - Avoid unn ...
Battery
- Keep the battery surface clean and dry. Clean the battery with a solution of baking soda and water. - Make certain the terminal connections are clean and securely tightened. - If the vehicle ...