Speaker Adaptation function settings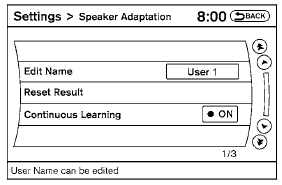 Edit Name:
Edit the user name using the keypad displayed on the screen.
Reset Result:
Resets the user's voice that the Voice Recognition system has learned.
Continuous Learning:
When this item is turned to ON, you can have the system learn the voice commands in succession, without selecting commands one by one.
See also:
Sway control device
Sudden maneuvers, wind gusts and buffeting caused by other vehicles can affect trailer handling. Sway control devices may be used to help control these affects. If you choose to use one, conta ...
Checking engine oil level
1. Park the vehicle on a level surface and apply the parking brake. 2. Run the engine until it reaches operating temperature. 3. Turn off the engine. Wait more than 10 minutes for the oil to ...
Cooling or heating (AUTO)
This mode may be normally used all year round as the system automatically works to keep a constant temperature. Air flow distribution and fan speed are also controlled automatically. 1. Press the ...