Speaker Adaptation function settings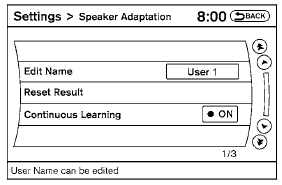 Edit Name:
Edit the user name using the keypad displayed on the screen.
Reset Result:
Resets the user's voice that the Voice Recognition system has learned.
Continuous Learning:
When this item is turned to ON, you can have the system learn the voice commands in succession, without selecting commands one by one.
See also:
Interior
The Nissan Maxima's interior is as pronounced and edgy as its exterior. However, it felt a little too masculine for my taste. There are a lot of dark gray materials on the inside. It's accented wi ...
F.M.V.S.S./C.M.V.S.S. certification label
The Federal/Canadian Motor Vehicle Safety Standard (F.M.V.S.S./C.M.V.S.S.) certification label is affixed as shown. This label contains valuable vehicle information, such as: Gross Vehicle W ...
How to use the SETTING button
When the SETTING button is pressed, the Settings screen will appear on the display. You can select and/or adjust several functions, features and modes that are available for your vehicle. Use ...