Shifting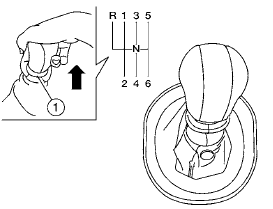 To change gears or when upshifting or downshifting, depress the clutch pedal fully, shift into the appropriate gear, then release the clutch slowly and smoothly.
To ensure smooth gear changes, fully depress the clutch pedal before operating the shift selector. If the clutch pedal is not fully depressed before the transmission is shifted, a gear noise may be heard. Transmission damage may occur.
Start the vehicle in 1st gear and shift to 2nd, 3rd, 4th and 5th up to 6th gear in sequence according to vehicle speed.
To back up, lift up on the shift selector ring 1 and then move it to the R (Reverse) position after stopping the vehicle completely.
The shift selector ring 1 returns to its original position when the shift selector is moved to the N (Neutral) position.
If it is difficult to move the shift selector into R (Reverse) or 1 (1st), shift into N (Neutral), then release the clutch pedal. Depress the clutch pedal again and shift into R (Reverse) or 1 (1st).
See also:
Larger children
Children who are too large for child restraints should be seated and restrained by the seat belts which are provided. The seat belt may not fit properly if the child is less than 4 ft 9 in (142. ...
Overview
The Nissan Rogue crossover SUV enters the 2011 model year with a new refreshed exterior appearance, refined interior, added technology and convenience features and one other thing - more of the sa ...
Parking/parking on hills.
WARNING ● Do not stop or park the vehicle over flammable materials such as dry grass, waste paper or rags. They may ignite and cause a fire. ● Safe parking procedures require that ...