Vehicle recovery (freeing a stuck vehicle)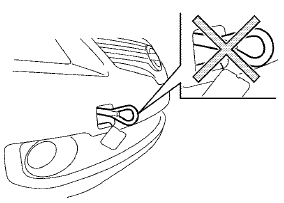 See also:
Checking engine coolant level
Check the coolant level in the reservoir when the engine is cold. If the coolant level is below the MIN level (B)- , add coolant to the MAX level (A) . If the reservoir is empty, check the co ...
Increasing fuel economy
GUID-08316153-E8EB-4B1D-A83C-780DAE9E7643 - Accelerate slowly and smoothly. Maintain cruising speeds with a constant accelerator position. - Drive at moderate speeds on the highway. Driving at ...
Pre-towing tips
- Be certain your vehicle maintains a level position when a loaded or unloaded trailer is hitched. Do not drive the vehicle if it has an abnormal nose-up or nose-down condition; check for impr ...