Engine compartment check locations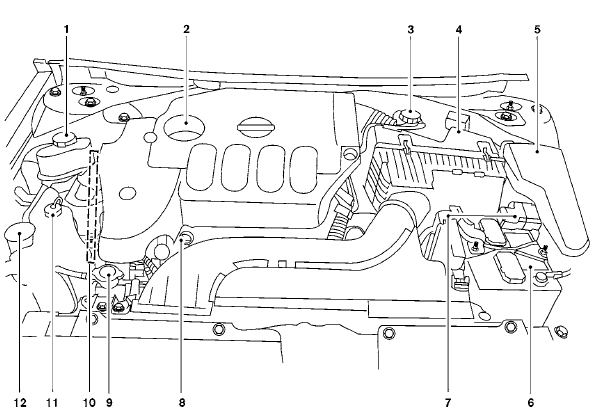 QR25DE engine
1. Power steering fluid reservoir
2. Engine oil filler cap
3. Brake fluid reservoir/Clutch fluid reservoir (M/T model)
4. Air cleaner
5. Fuse block
6. Battery
7. Fuse/Fusible link box
8. Engine oil dipstick
9. Radiator cap
10. Drive belt location
11. Engine coolant reservoir
12. Windshield-washer fluid reservoir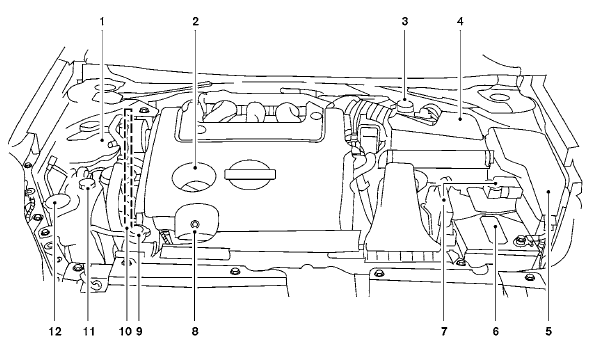 VQ35DE engine
1. Power steering fluid reservoir
2. Engine oil filler cap
3. Brake fluid reservoir/Clutch fluid reservoir (M/T model)
4. Air cleaner
5. Fuse block
6. Battery
7. Fuse/Fusible link box
8. Engine oil dipstick
9. Radiator cap
10. Drive belt location
11. Engine coolant reservoir
12. Windshield-washer fluid reservoir
See also:
Wet brakes
When the vehicle is washed or driven through water, the brakes may get wet. As a result, your braking distance will be longer and the vehicle may pull to one side during braking. To dry the brakes ...
Adjustable headrest (if so equipped)
The adjustable headrests supplement the other vehicle safety systems. They may provide additional protection against injury in certain rear end collisions. Adjust the headrests properly, as ...
Increasing fuel economy
GUID-08316153-E8EB-4B1D-A83C-780DAE9E7643 - Accelerate slowly and smoothly. Maintain cruising speeds with a constant accelerator position. - Drive at moderate speeds on the highway. Driving at ...