Nissan manuals
Nissan manuals, service manuals and other information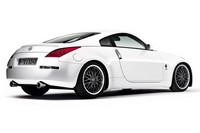 Nissan has produced an extensive range of mainstream cars and trucks, initially for domestic consumption but exported around the world since the 1950s. There was a major strike in 1953.
It also produced several memorable sports cars, including the Datsun Fairlady 1500, 1600 and 2000 Roadsters, the Z-car, an affordable sports car originally introduced in 1969; and the GT-R, a powerful all-wheel-drive sports coupe.
In 1985, Nissan created a tuning division, NISMO, for competition and performance development of such cars. One of Nismo's latest models is the 370Z NISMO.
Until 1982, Nissan automobiles in most export markets were sold under the Datsun brand. Since 1989, Nissan has sold its luxury models in North America under the Infiniti brand.
Categories