Switch operation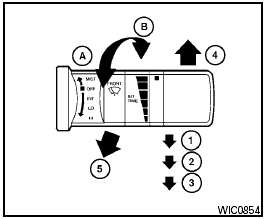 Switch operation
The windshield wiper and washer operates when the ignition switch is placed in the ON position.
Push the lever down to operate the wiper at the following speed:
1 Intermittent (INT) — intermittent operation can be adjusted by turning the knob toward A (Slower) or B (Faster).
2 Low (LO)—continuous low speed operation.
3 High (HI) — continuous high speed operation.
Push the lever up 4 to have one sweep operation (MIST) of the wiper.
Pull the lever toward you 5 to operate the washer. The wiper will also operate several times.

In freezing temperatures the washer solution may freeze on the windshield and obscure your vision which may lead to an accident. Warm the windshield with the defroster before you wash the windshield.

● Do not operate the washer continuously for more than 30 seconds.
● Do not operate the washer if the windshield-washer fluid reservoir is empty.
● Do not fill the windshield-washer fluid reservoir with windshield-washer fluid concentrates at full strength. Some methyl alcohol based windshieldwasher fluid concentrates may permanently stain the grille if spilled while filling the windshield-washer fluid reservoir.
● Pre-mix windshield-washer fluid concentrates with water to the manufacturer's recommended levels before pouring the fluid into the windshield-washer fluid reservoir. Do not use the windshield-washer fluid reservoir to mix the windshield-washer fluid concentrate and water.
See also:
How to switch the display
: Shift the selector/shift lever : Push the CAMERA button A : Original screen before the Around View Monitor is operated B : Rear view/bird-eye view screen C : Rear view/front-side view s ...
Cleaning
If your windshield is not clear after using the windshield washer or if a wiper blade chatters when running, wax or other material may be on the blade or windshield. Clean the outside of the winds ...
Sway control device
Sudden maneuvers, wind gusts and buffeting caused by other vehicles can affect trailer handling. Sway control devices may be used to help control these affects. If you choose to use one, conta ...