Power outlet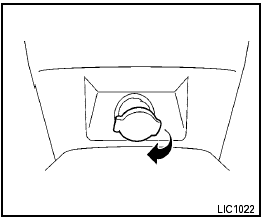 Instrument panel
The power outlets are for powering electrical accessories such as cellular telephones. They are rated at 12 Volt, 120W (10A) maximum.
The power outlet located on the bottom center portion of the instrument panel is powered directly by the vehicle's battery. The power outlet located in the console (if so equipped) is powered only when the ignition switch is placed in the ACC or ON position.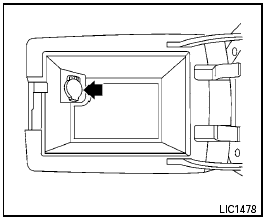 Console (if so equipped)

● The outlet and plug may be hot during or immediately after use.
● The power outlets are not designed for use with a cigarette lighter.
● Do not use with accessories that exceed a 12 volt, 120W (10A) power draw.
Do not use double adapters or more than one electrical accessory.
● Use power outlets with the engine running to avoid discharging the vehicle battery.
● Avoid using power outlets when the air conditioner (if so equipped), headlights or rear window defroster is on.
● Before inserting or disconnecting a plug, be sure the electrical accessory being used is turned OFF.
● Push the plug in as far as it will go. If good contact is not made, the plug may overheat or the internal temperature fuse may open.
● When not in use, be sure to close the cap. Do not allow water or any other liquid to contact the outlet.
See also:
Seat belt extenders
If, because of body size or driving position, it is not possible to properly fit the lap/shoulder belt and fasten it, an extender that is compatible with the installed seat belts is available that ...
2011 Nissan Juke review By Sara Lacey
The all-new 2011 Nissan Juke is as fun to drive as any other small, sporty car in the market. With its raised ground clearance and rally-inspired design, the Juke feels like it can go anywhere, wh ...
Readiness for inspection/maintenance (I/M) test
Due to legal requirements in some states and Canadian Provinces, your vehicle may be required to be in what is called the "ready condition" for an Inspection/Maintenance (I/M) test of the ...