Power outlet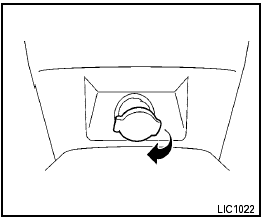 Instrument panel
The power outlets are for powering electrical accessories such as cellular telephones. They are rated at 12 Volt, 120W (10A) maximum.
The power outlet located on the bottom center portion of the instrument panel is powered directly by the vehicle's battery. The power outlet located in the console (if so equipped) is powered only when the ignition switch is placed in the ACC or ON position.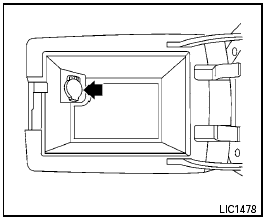 Console (if so equipped)

● The outlet and plug may be hot during or immediately after use.
● The power outlets are not designed for use with a cigarette lighter.
● Do not use with accessories that exceed a 12 volt, 120W (10A) power draw.
Do not use double adapters or more than one electrical accessory.
● Use power outlets with the engine running to avoid discharging the vehicle battery.
● Avoid using power outlets when the air conditioner (if so equipped), headlights or rear window defroster is on.
● Before inserting or disconnecting a plug, be sure the electrical accessory being used is turned OFF.
● Push the plug in as far as it will go. If good contact is not made, the plug may overheat or the internal temperature fuse may open.
● When not in use, be sure to close the cap. Do not allow water or any other liquid to contact the outlet.
See also:
How to speak numbers
Voice Recognition requires a certain way to speak numbers when giving voice commands. Refer to the following examples. General rule: ● Only single digits 0 (zero) to 9 can be used. ● ...
Keyfob
Replace the battery in the keyfob as follows: 1. Remove the screw. 2. Insert a small screwdriver into the slit of the corner and twist it to separate the upper part from the lower part. Use a ...
Instrument panel
1. Headlight/fog light (if so equipped) /turn signal switch; Manual shift paddles (if so equipped) 2. Steering wheel switch for audio control and Bluetooth Hands-Free Phone System (if so e ...