Unlocking doors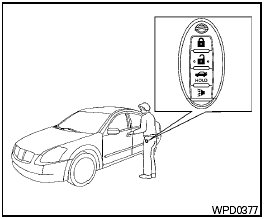 Unlocking doors
1. Carry the Intelligent Key.
2. Push the door handle request switch 1 .
3. The hazard warning lights flash once and the outside buzzer sounds once.
4. Push the door handle request switch 1 again within 60 seconds to unlock all doors.
If a door handle is pulled while unlocking the doors, that door may not be unlocked. Returning the door handle to its original position will unlock the door. If the door does not unlock after returning the door handle, push the door handle request switch to unlock the door.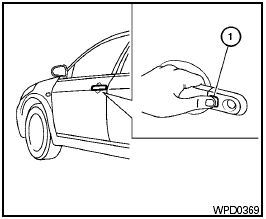 All doors will be locked automatically unless one of the following operations is performed within 60 seconds after pushing the request switch.
● Opening any door.
● Pushing the ignition switch.
● Inserting the mechanical key into the ignition switch.
The interior light timer illuminates for a maximum of 30 seconds when a door is unlocked and the room light switch is in the DOOR position.
The interior light can be turned off without waiting for 30 seconds by performing one of the following operations.
● Placing the ignition switch in the ON position.
● Locking the doors with the remote controller.
● Switching the room light switch to the OFF position.
See also:
Measurement of weights
Secure loose items to prevent weight shifts that could affect the balance of your vehicle. When the vehicle is loaded, drive to a scale and weigh the front and the rear wheels separately to determ ...
Dehumidified defogging
This mode is used to defog the windows and dehumidify the air. 1. Press the air flow control button. 2. Turn the fan control dial to the desired position. ● When the or are selected, t ...
Headlights
1. Headlight (high-beam) 2. Front turn signal/park/side marker light 3. Front map light 4. Ceiling light 5. Front fog light 6. Headlight (low-beam) 7. High-mounted stop light 8. Cargo ...