Touch screen operation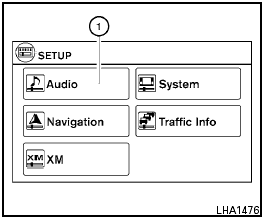 Touch screen operation
Selecting the item:
Touch an item to select. For example, to select the "Audio" key, touch the "Audio" key 1 on the screen.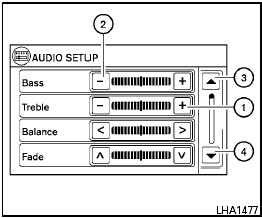 Adjusting the item:
For screens where an item can be adjusted incrementally, such as when adjusting the bass and treble for the audio system, touch the "+" key 1 or the "-" key 2 to adjust the settings of an item.
When there are more items than can be displayed on one screen, touch the up arrow 3 to scroll up the page or touch the down arrow 4 to scroll down the page.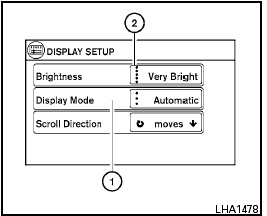 Other items are adjusted by selecting one of a set number of conditions. For example, the Display Mode can be set to "Automatic", "Day" or "Night".
To adjust this type of item, touch the item 1 . The item will cycle through the available settings and the red indicator lights to the left of the setting condition 2 will come on or turn off accordingly.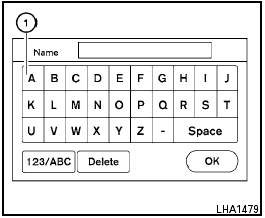 Inputting characters:
Touch the letter key 1 .
There are some options available when inputting characters.
● 123 / ABC:
Changes the available character set to numbers.
● Space:
Inserts a space.
● Delete:
Deletes the last inputted character with one touch. Touch and hold the "Delete" key to delete all of the characters.
● OK:
Completes the character input.
See also:
Vents
Right and Left Adjust air flow direction by moving the vent slides. Open or close the vents by using the dial. Move the dial toward the to open the vents or toward the to close them. Cen ...
Ignition switch
● Never remove or turn the key to the LOCK position while driving. The steering wheel will lock (for models with a steering lock mechanism). This may cause the driver to lose control ...
Emission control system warranty
Your NISSAN vehicle is covered by the following emission warranties: For USA 1. Emission Defects Warranty 2. Emissions Performance Warranty Details of this warranty may be found with other v ...