Touch screen operation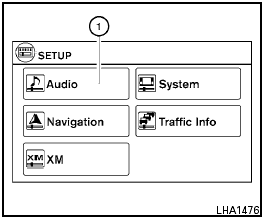 Touch screen operation
Selecting the item:
Touch an item to select. For example, to select the "Audio" key, touch the "Audio" key 1 on the screen.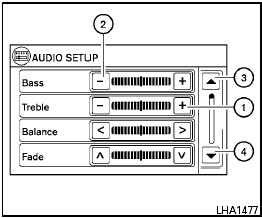 Adjusting the item:
For screens where an item can be adjusted incrementally, such as when adjusting the bass and treble for the audio system, touch the "+" key 1 or the "-" key 2 to adjust the settings of an item.
When there are more items than can be displayed on one screen, touch the up arrow 3 to scroll up the page or touch the down arrow 4 to scroll down the page.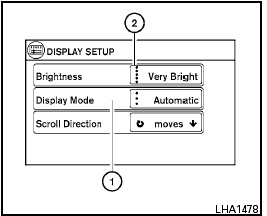 Other items are adjusted by selecting one of a set number of conditions. For example, the Display Mode can be set to "Automatic", "Day" or "Night".
To adjust this type of item, touch the item 1 . The item will cycle through the available settings and the red indicator lights to the left of the setting condition 2 will come on or turn off accordingly.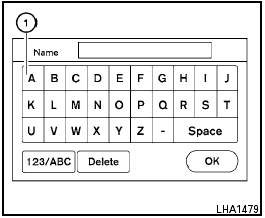 Inputting characters:
Touch the letter key 1 .
There are some options available when inputting characters.
● 123 / ABC:
Changes the available character set to numbers.
● Space:
Inserts a space.
● Delete:
Deletes the last inputted character with one touch. Touch and hold the "Delete" key to delete all of the characters.
● OK:
Completes the character input.
See also:
Variable voltage control system
CAUTION: - Do not ground accessories directly to the battery terminal. Doing so will bypass the variable voltage control system and the vehicle battery may not charge completely. - Use ele ...
All season tires
NISSAN specifies All Season tires on some models to provide good performance all year, including snowy and icy road conditions. All Season tires are identified by ALL SEASON and/or M&S on the ...
Off-road recovery
If the right side or left side wheels leave the road surface, maintain control of the vehicle by following the procedure below. Please note that this procedure is only a general guide. The veh ...