Backing up behind a projecting object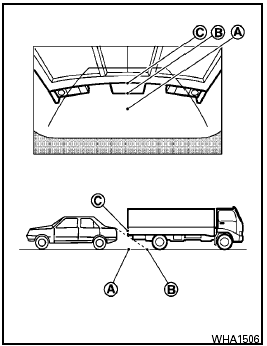 Backing up behind a projecting object
The position is shown farther than the position B in the display. However, the position C is actually at the same distance as the position A .
The vehicle may hit the object when backing up to the position A if the object projects over the actual backing up course.
See also:
Important information about this manual
You will see various symbols in this manual. They are used in the following ways: This is used to indicate the presence of a hazard that could cause death or serious personal injury. To avo ...
Training procedure
The procedure for training a voice is as follows. 1. Position the vehicle in a reasonably quiet outdoor location. 2. Sit in the driver's seat with the engine running, the parking brake on, and ...
Antenna
Antenna To remove the antenna, hold the bottom of the antenna and turn it counterclockwise. To install the antenna, turn the antenna clockwise and tighten. - To avoid damaging or deformin ...