Audio main operation
VOL/ON·OFF control:
Place the ignition switch in the ACC or ON position and push the VOL/ON·OFF control knob while the system is off to call up the mode (radio, CD, AUX, USB or iPod ) that was playing immediately before the system was turned off.
To turn the system off, press the VOL/ON·OFF control knob.
Turn the VOL/ON·OFF control knob to adjust the volume.
This vehicle may be equipped with Speed Volume for audio. When this feature is active, the audio volume changes as the driving speed changes.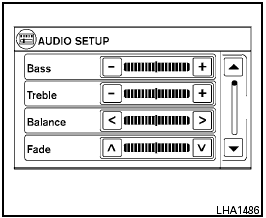 Audio settings:
Press the SETUP button to display the audio settings on the screen. These settings can also be displayed by pressing the AUDIO button (TUNE/SCROLL knob). Use the touchscreen to adjust the following items to the desired setting:
Bass, Treble, Balance and Fade:
Controls the sound of the audio system. Balance adjusts the sound between the left and right speakers. Fade adjusts the sound between the front and rear speakers.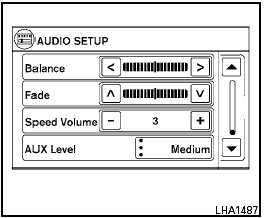 Speed Volume:
Controls the level to which the volume is adjusted as the vehicle's driving speed changes. Choose a setting between 1 and 5 or choose 0 to disable the feature entirely.
AUX Level:
Controls the volume level of incoming sound when an auxiliary device is connected to the system. Available options are Quiet, Medium and Loud.
See also:
Avoiding collision and rollover
WARNING Failure to operate this vehicle in a safe and prudent manner may result in loss of control or an accident. Be alert and drive defensively at all times. Obey all traffic regulations. Avoid ...
Pregnant women
NISSAN recommends that pregnant women use seat belts. The seat belt should be worn snug and always position the lap belt as low as possible around the hips, not the waist. Place the shoulder b ...
Additional features
For more information about the iPod player available with this system, see "iPod player operation without Navigation System (Type B)" in this section. For more information about the USB int ...