Manual transmission (if so equipped)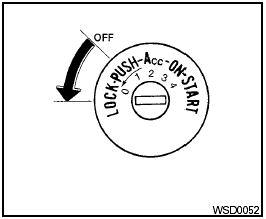 The ignition switch includes a device that helps prevent accidental removal of the key while driving.
The key can only be removed when the ignition switch is in the LOCK position.
On manual transmission models, to turn the ignition switch to the LOCKposition from theACCor ON position, place the ignition switch in the OFF position, push the key in, then place the ignition switch in LOCK position.
See also:
Moisture
Accumulation of sand, dirt and water on the vehicle body underside can accelerate corrosion. Wet floor coverings will not dry completely inside the vehicle, and should be removed for drying to ...
Removing wheel cover (if so equipped)
Never use your hands to remove the wheel cover. This may cause personal injury. To remove the wheel cover, use the jack rod 1 as illustrated. Apply cloth 2 between the wheel and jack rod ...
Infants
Infants up to at least 1 year old should be placed in a rear-facing child restraint. NISSAN recommends that infants be placed in child restraints that comply with Federal Motor Vehicle Safety ...