Shifting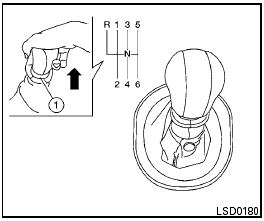 Shifting
To change gears or when upshifting or downshifting, depress the clutch pedal fully, shift into the appropriate gear, then release the clutch slowly and smoothly.
To ensure smooth gear changes, fully depress the clutch pedal before operating the shift selector.
If the clutch pedal is not fully depressed before the transmission is shifted, a gear noise may be heard. Transmission damage may occur.
Start the vehicle in 1st gear and shift to 2nd, 3rd, 4th and 5th up to 6th gear in sequence according to vehicle speed.
To back up, lift up on the shift selector ring 1 and then move it to the R (Reverse) position after stopping the vehicle completely.
The shift selector ring 1 returns to its original position when the shift selector is moved to the N (Neutral) position.
If it is difficult to move the shift selector into R (Reverse) or 1 (1st), shift into N (Neutral), then release the clutch pedal. Depress the clutch pedal again and shift into R (Reverse) or 1 (1st).
See also:
Avoiding collision and rollover
WARNING: Failure to operate this vehicle in a safe and prudent manner may result in loss of control or an accident. Be alert and drive defensively at all times. Obey all traffic regulations. A ...
Tire and loading information label
The cold tire pressure is shown on the Tire and Loading Information label affixed to the pillar as illustrated. ...
How to use touch screen
- The glass screen on the liquid crystal display may break if it is hit with a hard or sharp object. If the glass breaks, do not touch the liquid crystalline material, which contains a s ...