Parking brake

● Be sure the parking brake is fully released before driving. Failure to do so can cause brake failure and lead to an accident.
● Do not release the parking brake from outside the vehicle.
● Do not use the shift selector in place of the parking brake. When parking, be sure the parking brake is fully engaged.
● Do not leave children unattended in a vehicle. They could release the parking brake and cause an accident.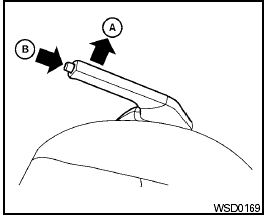 To engage: Pull the lever up A .
To release:
1. Firmly apply the foot brake.
2. Manual transmission models:
Place the shift selector in the N (Neutral) position.
CVT models:
Move the shift selector to the P (Park) position.
3. While pulling up on the parking brake lever slightly, push the button and lower completely B .
4. Before driving, be sure the brake warning light goes out.
See also:
Pre-towing tips
● Be certain your vehicle maintains a level position when a loaded and/or unloaded trailer is hitched. Do not drive the vehicle if it has an abnormal nose-up or nose-down condition; chec ...
Radio reception
Your NISSAN radio system is equipped with state-of-the-art electronic circuits to enhance radio reception. These circuits are designed to extend reception range, and to enhance the quality of ...
Controls
Fan control dial The fan control dial turns the fan on and off, and controls fan speed. Air flow control buttons The air flow control buttons allow you to select the air flow outlets. MAX A/C ...