Precautions on cruise control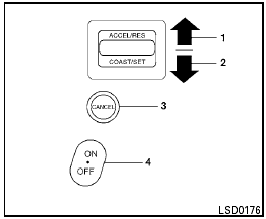 Precautions on cruise control
1. ACCEL/RES switch
2. COAST/SET switch
3. CANCEL switch
4. ON/OFF switch
● If the cruise control system malfunctions, it cancels automatically. The SET indicator light in the instrument panel then blinks to warn the driver.
● If the SET indicator light blinks, turn the cruise control switch off and have the system checked by a NISSAN dealer.
● The SET indicator light may blink when the cruise control switch is turned ON while pushing the ACCEL/RES, COAST/SET, or CANCEL switch. To properly set the cruise control system, use the following procedures.

Do not use the cruise control when driving under the following conditions.
● When it is not possible to keep the vehicle at a set speed.
● In heavy traffic or in traffic that varies in speed.
● On winding or hilly roads.
● On slippery roads (rain, snow, ice, etc.).
● In very windy areas.
Doing so could cause a loss of vehicle control and result in an accident.

On manual transmission models, do not shift into N (Neutral) without depressing the clutch pedal when the cruise control is set. Should this occur, depress the clutch pedal and turn the main switch off immediately.
Failure to do so may cause engine damage.
See also:
Engine compartment
CAUTION Never use a fuse of a higher or lower amperage rating than specified on the fuse box cover. This could damage the electrical system or cause a fire. If any electrical equipment does not ...
Off-road recovery
While driving, the right side or left side wheels may unintentionally leave the road surface. If this occurs, maintain control of the vehicle by following the procedure below. Please note that t ...
Radio
Place the ignition switch to the ACC or ON position and push the radio band select button to turn on the radio. If you listen to the radio with the engine not running, the ignition switch shou ...