Parking/parking on hills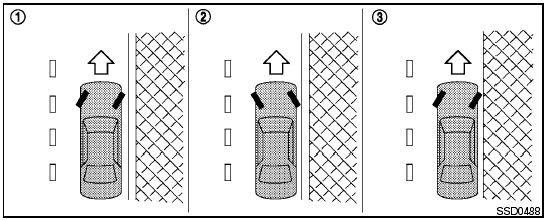 ● Do not stop or park the vehicle over flammable materials such as dry grass, waste paper or rags. They may ignite and cause a fire.
● Safe parking procedures require that both the parking brake be set and the transmission placed into P (Park) for CVT models or in an appropriate gear for manual transmission models. Failure to do so could cause the vehicle to move unexpectedly or roll away and result in an accident. Make sure the shift selector has been pushed as far forward as it can go and cannot be moved without depressing the foot brake pedal.
● Never leave the engine running while the vehicle is unattended.
● Do not leave children unattended inside the vehicle. They could unknowingly activate switches or controls. Unattended children could become involved in serious accidents.
1. Firmly apply the parking brake.
2. Manual transmission models.
Place the shift selector in the R (Reverse) position. When parking on an uphill grade, place the shift selector in 1st gear.
Continuously Variable Transmission (CVT) models.
Move the shift selector to the P (Park) position.
3. To help prevent the vehicle from rolling into traffic when parked on an incline, it is a good practice to turn the wheels as illustrated.
● HEADED DOWNHILL WITH CURB: 1 Turn the wheels into the curb and move the vehicle forward until the curb side wheel gently touches the curb.
● HEADED UPHILL WITH CURB: 2 Turn the wheels away from the curb and move the vehicle back until the curb side wheel gently touches the curb.
● HEADED UPHILL OR DOWNHILL, NO CURB: 3 Turn the wheels toward the side of the road so the vehicle will move away from the center of the road if it moves.
4. Place the ignition switch in the LOCK position and remove the key.
See also:
Rear-facing child restraint installation using LATCH
Refer to all Warnings and Cautions in the "Child safety" and "Child restraints" sections before installing a child restraint. Follow these steps to install a rear-facing child restraint ...
Instrument panel
Instrument panel 1. Side ventilator 2. Headlight, fog light* and turn signal switch 3. Steering-wheel-mounted controls (left side)* — Audio control* — Bluetooth® Hands-Free Phone Syste ...
INTERIOR
Storage is at a premium in the Rogue. Truthfully, it's a problem in many small cars and SUVs. The Rogue has two cupholders in the front row. There's a slot next to the cupholders to house your cel ...