Blocking wheels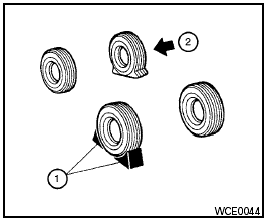 Blocking wheels
Place suitable blocks 1 at both the front and back of the wheel diagonally opposite the flat tire 2 to prevent the vehicle from moving when it is jacked up.

Be sure to block the wheel as the vehicle may move and result in personal injury.
See also:
Connecting procedure
NOTE: The connecting procedure must be performed when the vehicle is stationary. If the vehicle starts moving during the procedure, the procedure will be cancelled. 1. Push the button on t ...
Using the system
Depress the brake pedal and hold it down. Depress the brake pedal with firm steady pressure, but do not pump the brakes. The ABS will operate to prevent the wheels from locking up. Steer the ve ...
Drinking alcohol/drugs and driving
Never drive under the influence of alcohol or drugs. Alcohol in the bloodstream reduces coordination, delays reaction time and impairs judgement. Driving after drinking alcohol increases ...