Pulling a stuck vehicle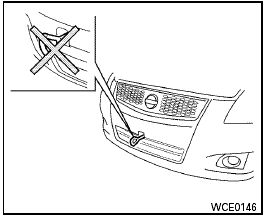 Front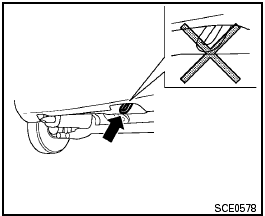 Rear

To avoid vehicle damage, serious personal injury or death when recovering a stuck vehicle.
● Contact a professional towing service to recover the vehicle if you have any questions regarding the recovery procedure.
● Do not use the vehicle tie-downs to tow or free a stuck vehicle.
● Only use devices specifically designed for vehicle recovery and follow the manufacturer's instructions.
● Always pull the recovery device straight out from the front of the vehicle. Never pull at an angle.
● Route recovery devices so they do not touch any part of the vehicle except the attachment point.
If your vehicle is stuck in sand, snow, mud, etc., use a tow strap or other device designed specifically for vehicle recovery. Always follow the manufacturer's instructions for the recovery device.
Do not use the tie-down hooks for towing or vehicle recovery.
See also:
Tire pressure
Tire Pressure Monitoring System (TPMS) (if so equipped) This vehicle is equipped with the Tire Pressure Monitoring System (TPMS). It monitors tire pressure of all tires except the spare. When ...
Touch screen maintenance
If you clean the display screen, use a dry, soft cloth. If additional cleaning is necessary, use a small amount of neutral detergent with a soft cloth. Never spray the screen with water or deter ...
Locking with key
The power door lock system allows you to lock or unlock all doors at the same time. Turning the key toward the front 1 of the vehicle locks all doors. Turning the key one time toward the rear 2 ...