Checking engine oil level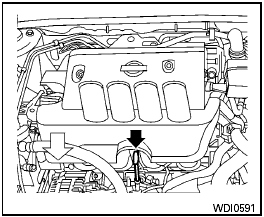 MR20DE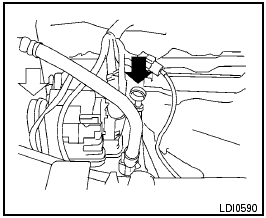 QR25DE
1. Park the vehicle on a level surface and apply the parking brake.
2. Start the engine and let it idle until it reaches operating temperature.
3. Turn off the engine. Wait more than 10 minutes for the oil to drain back into the oil pan. 4. Remove the dipstick and wipe it clean. Reinsert it all the way.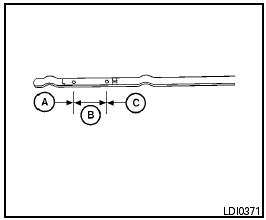 5. Remove the dipstick again and check the oil level. It should be between the H (High) and L (Low) marks B . This is the normal operating oil level range. If the oil level is below the L (Low) mark A , remove the oil filler cap and pour recommended oil through the opening. Do not overfill C .
6. Recheck oil level with the dipstick.
It is normal to add some oil between oil maintenance intervals or during the break-in period, depending on the severity of operating conditions.

Oil level should be checked regularly. Operating the engine with an insufficient amount of oil can damage the engine, and such damage is not covered by warranty.
Make sure to follow the engine oil changing intervals in the maintenance booklet. Operating under the following conditions may require more frequent oil change:
● repeated short distance driving
● driving in dusty conditions
● stop and go commuting.
See also:
Towing safety
Trailer hitch Choose a proper hitch for your vehicle and trailer. Make sure the trailer hitch is securely attached to the vehicle, to help avoid personal injury or property damage due to sway ca ...
Types of tires
WARNING: - When changing or replacing tires, be sure all four tires are of the same type (i.e., Summer, All Season or Snow) and construction. A NISSAN dealer may be able to help you with info ...
Readiness for Inspection/Maintenance (I/M) test
A vehicle equipped with All-Wheel Drive (AWD) should never be tested using a two wheel dynamometer (such as the dynamometers used by some states for emissions testing), or similar equipment. M ...