Changing engine oil filter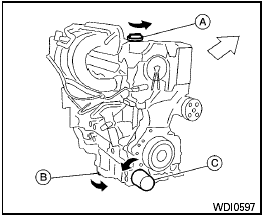 QR25DE engine
A Oil filler cap
B Oil drain plug
C Oil filter
1. Park the vehicle on a level surface and apply the parking brake.
2. Turn the engine off.
3. Place a large drain pan under the oil filter C .
4. Loosen the oil filter with an oil filter wrench by turning it counterclockwise. Then remove the oil filter by turning it by hand.

Be careful not to burn yourself. The engine oil may be hot.
5. Wipe the engine oil filter sealing surface with a clean rag.

Be sure to remove any old gasket material remaining on the sealing surface of the engine. Failure to do so could lead to engine damage.
6. Coat the gasket on the new filter with clean engine oil.
7. Screw on the oil filter until a slight resistance is felt, then tighten an additional 2/3 turn.
8. Start the engine and check for leakage around the oil filter. Correct as required.
9. Turn the engine off and wait more than 10 minutes. Check the oil level. Add engine oil if necessary.
See also:
'Incognito Canine' Styling
Nissan says the Cube's styling was inspired by a bulldog. It resembles an "incognito canine," the automaker says, likening the dark headlights and black grille to Fido's eyes and schnoz. ...
Clearing the programmed information
Individual buttons cannot be cleared. However, to clear all programming, press and hold the two outside buttons and release when the indicator light begins to flash (approximately 20 seconds). ...
Increasing fuel economy
● Accelerate slowly and smoothly. Maintain cruising speeds with a constant accelerator position. ● Drive at moderate speeds on the highway. Driving at high speed lowers fuel economy. ...