Windshield-washer fluid reservoir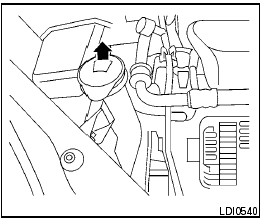 Fill the windshield-washer fluid reservoir periodically.
Add windshield-washer fluid when the low windshield-washer fluid warning light comes on (if so equipped).
To fill the windshield-washer fluid reservoir, lift the cap off the reservoir and pour the windshieldwasher fluid into the reservoir opening.
Add a washer solvent to the washer for better cleaning. In the winter season, add a windshieldwasher antifreeze. Follow the manufacturer's instructions for the mixture ratio.
Refill the reservoir more frequently when driving conditions require an increased amount of windshield-washer fluid.
Recommended fluid is Genuine NISSAN Windshield Washer Concentrate Cleaner & Antifreeze or equivalent.

● Do not substitute engine anti-freeze coolant for windshield-washer fluid.
This may result in damage to the paint.
● Do not fill the windshield-washer fluid reservoir with washer fluid concentrates at full strength. Some methyl alcohol based washer fluid concentrates may permanently stain the grille if spilled while filling the windshieldwasher fluid reservoir.
● Pre-mix washer fluid concentrates with water to the manufacturer's recommended levels before pouring the fluid into the windshield-washer fluid reservoir.
Do not use the windshield-washer fluid reservoir to mix the washer fluid concentrate and water.
See also:
How to use the remote keyless entry function
The remote keyless entry function can operate all door locks using the remote keyless function of the Intelligent Key. The remote keyless function can operate at a distance of 33 ft (10 m) away fr ...
Oil viscosity
The engine oil viscosity or thickness changes with temperature. Because of this, it is important to select the engine oil viscosity based on the temperatures at which the vehicle will be operated ...
2009 Nissan Rogue
Car names are fun to play with. Take the 2009 Nissan Rogue, for example. The Rogue doesn't play by the rules; It colors outside the lines and lives outside the box. I could go on and on. In this c ...