Windshield wiper and washer switch

In freezing temperatures the washer solution may freeze on the windshield and obscure your vision which may lead to an accident. Warm windshield with the defroster before you wash the windshield.

- Do not operate the washer continuously for more than 30 seconds.
- Do not operate the washer if the reservoir tank is empty.
- Do not fill the window washer reservoir tank with washer fluid concentrates at full strength. Some methyl alcohol based washer fluid concentrates may permanently stain the grille if spilled while filling the window washer reservoir tank.
- Pre-mix washer fluid concentrates with water to the manufacturer's recommended levels before pouring the fluid into the window washer reservoir tank. Do not use the window washer reservoir tank to mix the washer fluid concentrate and water.
If the windshield wiper operation is interrupted by snow or ice, the wiper may stop moving to protect its motor. If this occurs, turn the wiper switch to the OFF position and remove the snow or ice that is on and around the wiper arms. In approximately 1 minute, turn the switch on again to operate the wiper.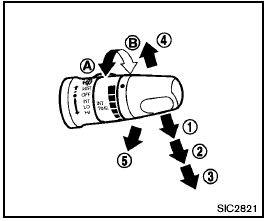 The windshield wiper and washer operates when the ignition switch is in the ON position.
Push the lever down to operate the wiper at the following speed:
1 Intermittent — intermittent operation can be adjusted by turning the knob toward A (Slower) or B (Faster).
2 Low — continuous low speed operation
3 High — continuous high speed operation
Push the lever up 4 to have one sweep operation of the wiper.
Pull the lever toward you 5 to operate the washer. Then the wiper will also operate several times.
See also:
Exterior rear
Coupe 1. Rear window and outside mirror (if so equipped) defroster switch (P. 2-29) 2. Interior trunk lid release (P. 3-24) 3. Trunk lid (P. 3-23) 4. Vehicle loading (P. 9-12) 5. Opener opera ...
CD care and cleaning
CD care and cleaning ● Handle a CD by its edges. Do not bend the disc. Never touch the surface of the disc. ● Always place the discs in the storage case when they are not being use ...
Fail-safe
When the fail-safe operation occurs, the CVT will not be shifted into the selected driving position. If the vehicle is driven under extreme conditions, such as excessive wheel spinning and subs ...