Xenon headlights (if so equipped)


HIGH VOLTAGE
- When xenon headlights are on, they produce a high voltage. To prevent an electric shock, never attempt to modify or disassemble. Always have your xenon headlights replaced at a NISSAN dealer.
- Xenon headlights provide considerably more light than conventional headlights. If they are not correctly aimed, they might temporarily blind an oncoming driver or the driver ahead of you and cause a serious accident. If headlights are not aimed correctly, immediately take your vehicle to a NISSAN dealer and have the headlights adjusted correctly.
When the xenon headlight is initially turned on, its brightness or color varies slightly. However, the color and brightness will soon stabilize.
- The life of xenon headlights will be shortened by frequent on-off operation.
It is generally desirable not to turn off the headlights for short intervals (for example, when the vehicle stops at a traffic signal).
- If the xenon headlight bulb is close to burning out, the brightness will drastically decrease, the light will start blinking, or the color of the light will become reddish. If one or more of the above signs appear, contact a NISSAN dealer.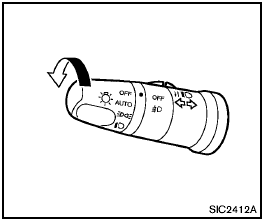 Autolight system (if so equipped)
The autolight system allows the headlights to be set so they turn on and off automatically.
To set the autolight system:
1. Make sure the headlight switch is in the AUTO position.
2. Turn the ignition switch to the ON position.
3. The autolight system automatically turns the headlights on and off.
To turn the autolight system off, turn the switch to the OFF,

or

position.
The autolight system can turn on the headlights automatically when it is dark and turn off the headlights when it is light.
If the ignition switch is turned to the OFF position and one of the doors is opened and this condition is continued, the headlights remain on for 5 minutes.
Automatic headlights off delay:
You can keep the headlights on for up to 180 seconds after you turn the ignition switch to OFF and open any door then close all the doors.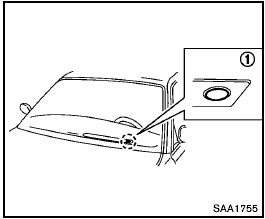 Be sure not to put anything on top of the photo sensor 1 located on the top of the instrument panel. The photo sensor controls the autolight; if it is covered, the photo sensor reacts as if it is dark and the headlights will illuminate.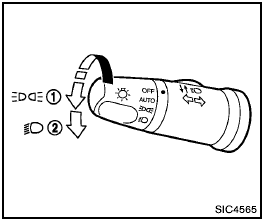 Type A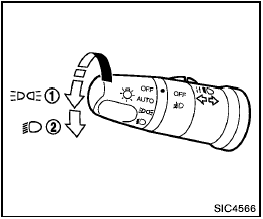 Type B
See also:
Doors
When the doors are locked using one of the following methods, the doors can not be opened using the inside or outside door handles. The doors must be unlocked to open the doors. WARNING: - Alw ...
Emergency engine shut off
To shut off the engine in an emergency situation while driving perform the following procedure: – Rapidly push the push-button ignition switch 3 consecutive times, or – Push and hold the push- ...
FM radio reception
Range: FM range is normally limited to 25 – 30 mi (40 – 48 km), with monaural (single channel) FM having slightly more range than stereo FM. External influences may sometimes interfere with ...