Headlight beam select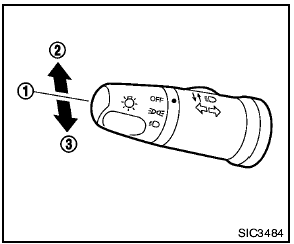 Headlight beam select
1 To select the low beam, put the lever in the neutral position as shown.
2 To select the high beam, push the lever forward while the switch is in the

position. Pull it back to select the low beam.
3 Pulling the lever toward you will flash the headlight high beam even when the headlight switch is in the OFF position.
See also:
Fan control dial
The fan control dial turns the fan on and off, and controls fan speed. ...
Overdrive (O/D) OFF switch
When the O/D OFF switch is pushed with the selector lever in the D (Drive) position, the indicator light in the instrument panel illuminates. Use the overdrive off mode when you need impr ...
NISSAN Advanced Air Bag System (front seats)
This vehicle is equipped with the NISSAN Advanced Air Bag System for the driver and front passenger seats. This system is designed to meet certification requirements under U.S. regulations. It ...