Headlight aiming control (if so equipped)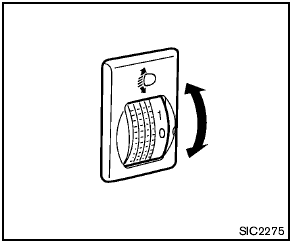 Headlight aiming control (if so equipped)
Depending on the number of occupants in the vehicle and the load it is carrying, the headlight axis may be higher than desired. If the vehicle is traveling on a hilly road, the headlights may directly hit the rearview mirror of the vehicle ahead or the windshield of the oncoming vehicle. The light axis can be lowered with the operation of the switch.
The larger the number designated on the switch, the lower the axis.
When traveling with no heavy load or on a flat road, select position 0.

Xenon headlights are extremely bright compared to conventional headlights. If the xenon headlights hit the rearview mirror of the vehicle ahead or the windshield of oncoming vehicle, the driver of these vehicles may have difficulty driving because of the brightness.
Use the headlight aiming control switch to lower the light axis. See "Xenon headlights" earlier in this section for additional information.
See also:
Aluminum alloy wheels (if so equipped)
Wash the wheels regularly with a sponge dampened in a mild soap solution, especially during winter months in areas where road salt is used. If not removed, road salt can discolor the wheels. CAUTI ...
Warning for low battery power
When the Intelligent Key battery is low, the Intelligent Key system warning light ( ) will blink green for about 30 seconds after the ignition switch is placed in the ON position. This warning ...
NISSAN Intelligent Key™ (if so equipped)
● Radio waves could adversely affect electric medical equipment. Those who use a pacemaker should contact the electric medical equipment manufacturer for the possible influences befo ...