Door locks/unlocks precaution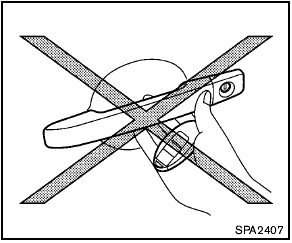 - Do not push the door handle request switch with the Intelligent Key held in your hand as illustrated. The close distance to the door handle will cause the Intelligent Key system to have difficulty recognizing that the Intelligent Key is outside the vehicle.
- After locking with the door handle request switch, verify the doors are securely locked by testing them.
- To prevent the Intelligent Key from being left inside the vehicle, make sure you carry the key with you and then lock the doors.
- Do not pull the door handle before pushing the door handle request switch. The door will be unlocked but will not open. Release the door handle once and pull it again to open the door.
See also:
AM radio reception
AM signals, because of their low frequency, can bend around objects and skip along the ground. In addition, the signals can be bounced off the ionosphere and bent back to earth. Because of thes ...
Audible reminder and warning when locking the doors
When the chime or buzzer sounds from inside and outside the vehicle, check for the following. ● The ignition switch is placed in the LOCK position. ● The Intelligent Key is not left ...
Choosing a language
You can interact with the Bluetooth Hands-Free Phone System using English, Spanish or French. To change the language, perform the following. 1. Press and hold the button for more than 5 seconds ...