How to use remote keyless entry function

- Radio waves could adversely affect electric medical equipment. Those who use a pacemaker should contact the electric medical equipment manufacturer for the possible influences before use.
- The Intelligent Key transmits radio waves when the buttons are pushed. The FAA advises that the radio waves may affect aircraft navigation and communication systems.
Do not operate the Intelligent Key while on an airplane.
Make sure the buttons are not operated unintentionally when the unit is stored during a flight.

- Do not allow the Intelligent Key, which contains electrical components, to come into contact with water or salt water. This could affect the system function.
- Do not drop the Intelligent Key.
- Do not strike the Intelligent Key sharply against another object.
- Do not change or modify the Intelligent Key.
- Wetting may damage the Intelligent Key. If the Intelligent Key gets wet, immediately wipe until it is completely dry.
- Do not place the Intelligent Key for an extended period in an area where temperatures exceed 1408F (608C).
- Do not attach the Intelligent Key with a key holder that contains a magnet.
- Do not place the Intelligent Key near equipment that produces a magnetic field, such as a TV, audio equipment, personal computers or cellular phone.
The remote keyless entry function can operate all door locks using the remote keyless entry function of the Intelligent Key. The remote keyless entry function can operate at a distance of approximately 33 ft (10 m) from the vehicle.
(The operating distance depends upon the conditions around the vehicle.) The remote keyless entry function will not operate:
- When the Intelligent Key is not within the operational range.
- When the doors are open or not closed securely.
- When the Intelligent Key battery is discharged.
The remote keyless entry function can also operate the vehicle alarm.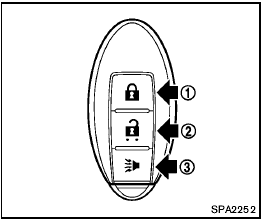 1 LOCK button


2 UNLOCK button


3 PANIC button

When you lock or unlock the doors, the hazard indicator will flash and the horn (or the outside chime) will sound as a confirmation. For details, see "Setting hazard indicator and horn mode" later in this section.
See also:
Hazard warning flasher switch
Push the switch on to warn other drivers when you must stop or park under emergency conditions. All turn signal lights flash. WARNING ● If stopping for an emergency, be sure to move the v ...
LATCH lower anchor location
LATCH lower anchor location The LATCH lower anchors are located at the rear of the seat cushion near the seatback. A label is attached to the seatback to help you locate the LATCH lower anchors. ...
Environmental factors influence the rate of corrosion
Moisture Accumulation of sand, dirt and water on the vehicle body underside can accelerate corrosion. Wet floor coverings will not dry completely inside the vehicle and should be removed for dry ...