How to read the displayed lines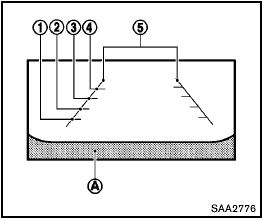 Guiding lines which indicate the vehicle width and distances to objects with reference to the bumper line A are displayed on the monitor.
Distance guide lines:
Indicate distances from the vehicle body.
- Red line 1 : approx. 1.5 ft (0.5 m)
- Yellow line 2 : approx. 3 ft (1 m)
- Green line 3 : approx. 7 ft (2 m)
- Green line 4 : approx. 10 ft (3 m)
Vehicle width guide lines 5 :
Indicate the vehicle width when backing up.
See also:
Checking tire pressure
1. Remove the valve stem cap from the tire. 2. Press the pressure gauge squarely onto the valve stem. Do not press too hard or force the valve stem sideways, or air will escape. If the hissing ...
Types of tires
WARNING: - When changing or replacing tires, be sure all four tires are of the same type (i.e., Summer, All Season or Snow) and construction. A NISSAN dealer may be able to help you with info ...
Changing engine coolant
A NISSAN dealer can change the engine coolant. The service procedure can be found in the NISSAN Service Manual. Improper servicing can result in reduced heater performance and engine overheating ...