Bird's-eye view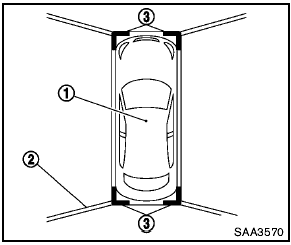 The bird's-eye view shows the overhead view of the vehicle which helps confirm the vehicle position and the predicted course to a parking space.
The vehicle icon 1 shows the position of the vehicle. Note that the distance between objects viewed in the bird's-eye view differs from the actual distance.
The areas that the cameras cannot cover 2 are indicated in black.
After the ignition switch is turned on, the nonviewable area 2 is highlighted in yellow for 3 seconds after the bird's-eye view is displayed.
In addition, the non-viewable corners are displayed in red (blink for the first 3 seconds) 3 to remind the drivers to be cautious.

- Objects in the bird's-eye view will appear further than the actual distance because the bird's-eye view is a pseudo view that is processed by combining the views from the cameras on the outside mirrors, the front and the rear of the vehicle.
- Tall objects, such as a curb or vehicle, may be misaligned or not displayed at the seam of the views.
- Objects that are above the camera cannot be displayed.
- The view for the bird's-eye view may be misaligned when the camera position alters.
- A line on the ground may be misaligned and is not seen as being straight at the seam of the views.
The misalignment will increase as the line proceeds away from the vehicle.
See also:
Bluetooth® Hands-Free Phone System (if so equipped)
- Use a phone after stopping your vehicle in a safe location. If you have to use a phone while driving, exercise extreme caution at all times so full attention may be given to vehicle op ...
Drive belts
1. Alternator 2. Water pump 3. Drive belt auto-tensioner 4. Crankshaft pulley 5. Air conditioner compressor Be sure the ignition switch is in the OFF or LOCK position before servicing ...
Seat belt maintenance
● To clean the seat belt webbing, apply a mild soap solution or any solution recommended for cleaning upholstery or carpet. Then wipe with a cloth and allow the seat belts to dry in the shad ...