Front-side view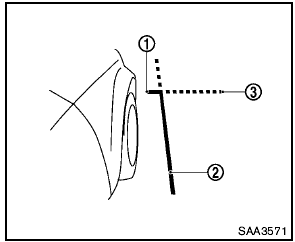 Front-side view
Guiding lines:
Guiding lines that indicate the width and the front end of the vehicle are displayed on the monitor.
The front-of-vehicle line 1 shows the front part of the vehicle.
The side-of-vehicle line 2 shows the vehicle width including the outside mirror.
The extensions 3 of both the front 1 and side 2 lines are shown with a green dotted line.

- There is a plastic cover over the camera. Do not scratch the cover when cleaning dirt or snow from the cover.
- The turn signal light may overlap with the side-of-vehicle line. This is not a malfunction.
See also:
From Quirky to Bizarre
A Cube review wouldn't be complete without mention of its quirky and optionally bizarre features. The water-droplet ceiling and overall design are generally well-received, though the materials qua ...
License plate bracket padding
1. License plate 2. Trunk 3. License plate frame 4. Padding CAUTION A license plate frame could vibrate and cause noise or paint damage. To avoid damage or noise, add a soft adhesive pad wit ...
Air flow charts
The following charts show the button and dial positions for MAXIMUM AND QUICK heating, cooling or defrosting. The air recirculation button should always be in the OFF position for heating and defr ...