Moving to a steep uphill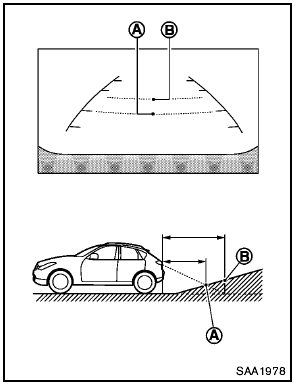 Moving to a steep uphill
When moving the vehicle up a hill, the distance guide lines and the vehicle width guide lines are shown closer than the actual distance. For example, the display shows 3 ft (1 m) to the place A , but the actual 3 ft (1 m) distance on the hill is the place B . Note that any object on the hill is viewed in the monitor further than it appears.
See also:
Air flow charts
The following charts show the button and dial positions for MAXIMUM AND QUICK heating, cooling or defrosting. The air recirculation button should always be in the OFF position for heating and defr ...
Precautions on seat belt usage
If you are wearing your seat belt properly adjusted, and you are sitting upright and well back in your seat with both feet on the floor, your chances of being injured or killed in an accident ...
Jump starting
To start your engine with a booster battery, the instructions and precautions below must be followed. - If done incorrectly, jump starting can lead to a battery explosion, resulting in se ...