Moving to a steep downhill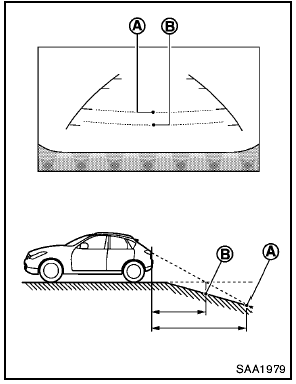 Moving to a steep downhill
When moving the vehicle down a hill, the distance guide lines and the vehicle width guide lines are shown further than the actual distance.
For example, the display shows 3 ft (1 m) to the place A , but the actual 3 ft (1 m) distance on the hill is the place B . Note that any object on the hill is viewed in the monitor closer than it appears.
See also:
Seatback pockets
Seatback pockets The seatback pockets are located on the back of the drivers and passengers seats. The pockets can be used to store maps. ...
Control panel buttons ó color screen with Navigation System (if so equipped)
1. ZOOM OUT button*. 2. STATUS button. 3. DEST button*. 4. ROUTE button*. 5. NISSAN controller. 6. INFO button. 7. PHONE button**. 8. + (brightness control) button. 9. OFF brightness control ...
Measurement of weights
Secure loose items to prevent weight shifts that could affect the balance of your vehicle. When the vehicle is loaded, drive to a scale and weigh the front and the rear wheels separately to de ...