Steering wheel switch for audio control (if so equipped)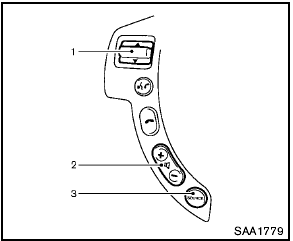 Steering wheel switch for audio control (if so equipped)
1. Tuning switch
2. VOLUME control switch
3. SOURCE select switch
See also:
Compact disc (CD) player operation
If the radio is already operating, it automatically turns off and the compact disc begins to play. CD button: When the CD button is pressed with the system off and the compact disc loaded, the s ...
NISSAN vehicle immobilizer system
The NISSAN Vehicle Immobilizer System will not allow the engine to start without the use of a registered key. If the engine fails to start using a registered key (for example, when interference ...
When traveling or registering your vehicle in another country
When planning to drive your NISSAN vehicle in another country, you should first find out if the fuel available is suitable for your vehicle's engine. Using fuel with an octane rating that is too ...